Swimming pool De Kouter
Poperinge, Belgium
Commissioning authority & client
Programme
25 m pool, teaching pool, play areas, whirlpool, water slide, wellness area
Our responsibilities
architecture, water treatment, interior design
Engineering company
VK Engineering (structural analysis & technical equipment)
Date of completion
Gross surface area
Building cost (excl. VAT)
Photography
BF
The swimming pool De Kouter - Poperinge is an ambitious project that aims to become a new and major attraction for the area. The design choice was clear from the outset: this was to be a project with charisma, one that would introduce a new iconic value into the cityscape. With its powerful lines, the design of the building expresses the dynamic nature of the project. It is prominent and, by way of its large windows, invites passers-by to look inward.
BF
BF
The initial analysis of the masterplan led to the integration of the building on the south side of the terrain. This ensured the safeguarding of a large amount of space for the addition of new functions, be it as integrated parts of the pool building or as brand new focal points in the Heilig Hartstraat on the west side of the terrain.
BF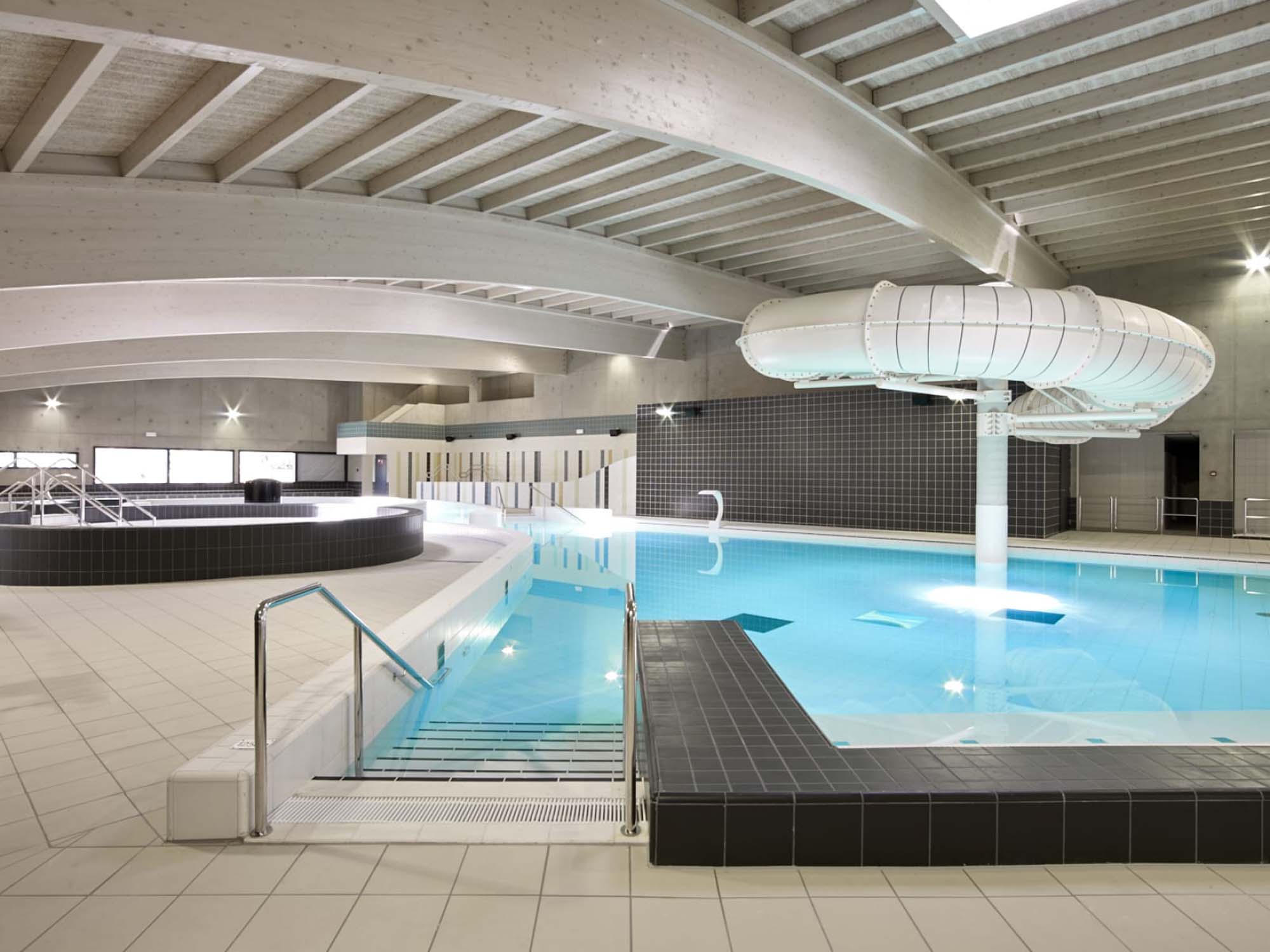 BF
The building envelope is surprisingly compact, creating a maximal amount of 'swimming water' on a minimal amount of surface space. In order to realise this, some functions, including the classroom and multipurpose room, are housed in the basement. Since these spaces are directly reachable via an outside slope, however, their location in no way impedes their accessibility. Natural light isn't an issue either: the entrance is located 80 cm above the finished pavement, creating a difference in elevation between the outdoor areas and the ground floor and allowing natural light to seep into the lower levels of the building.
BF
BF
From an energetic point of view, the project can be considered as a 'climate pool'. In addition to the compact nature of the building, its high levels of isolation, airtightness and smart technologies, the strategic positioning of windows and the very conscious matching of form and function are central aspects of this concept. For instance, it's the specific organisation of functions that allows for the swimming pool itself to be strongly enclosed on the north and for the entrance to be punctuated as the only transparant volume in the building. The elongated windows on the sides of the building accentuate the dynamic character without leading to unnecessary energy losses.