Swimming pool DOK~3
Aartselaar, Belgium
Commissioning authority
Igean, by order of the municipalities Aartselaar, Hemiksem and Niel
Building team
Consortium LD-Architecten, TM Engie Fabricom, Strabag, Tractebel Engie
Programme
25 m pool, teaching pool, play area, changing area, cafeteria
Our responsibilities
masterplan, architecture, water treatment, interior design
Engineering office
Tractebel Engineering NV (structural analysis & technical equipment)
Date of completion
Gross surface area
Photography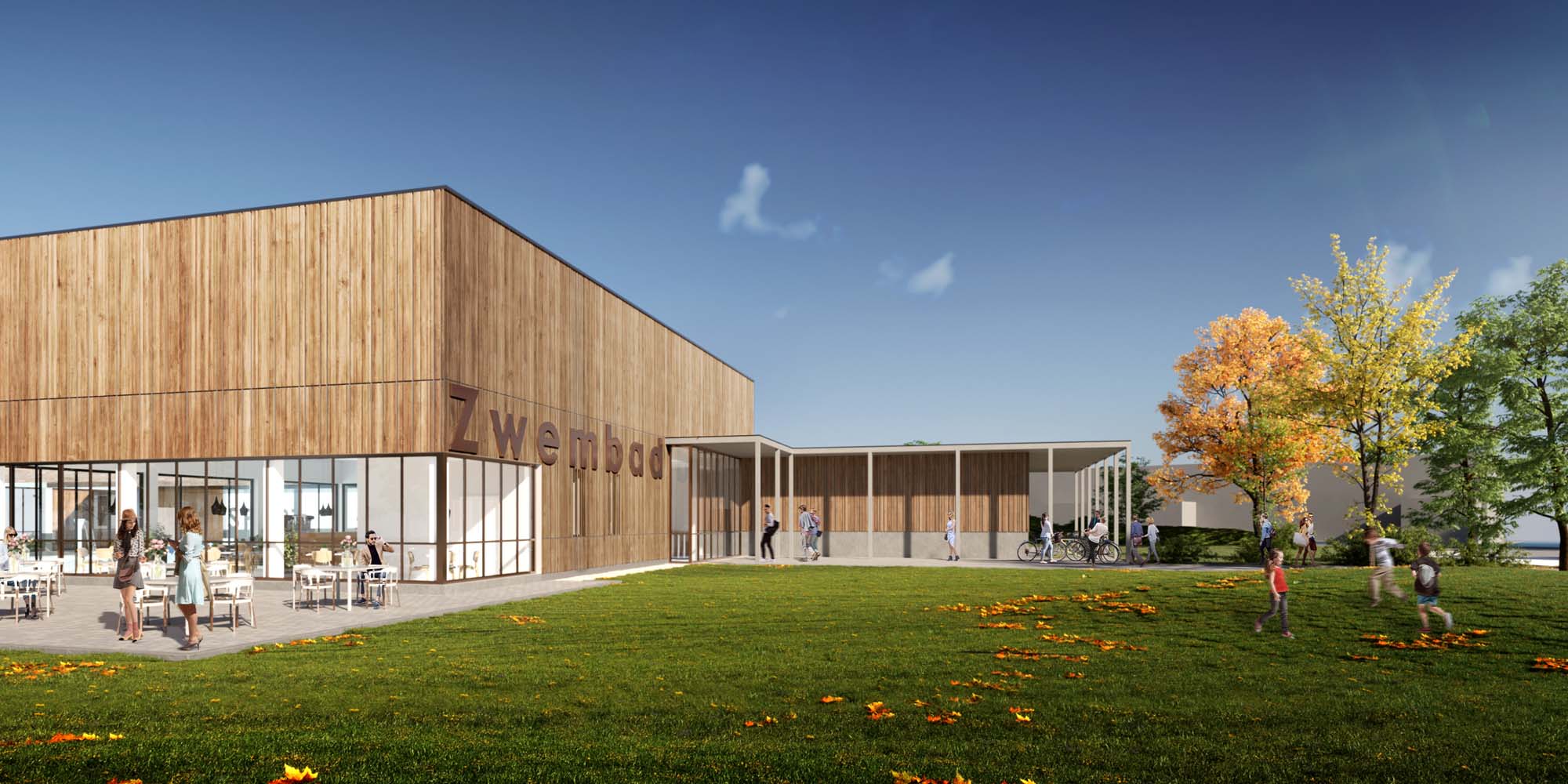 The pool building serves as an attraction or, perhaps more accurately, an 'attractor'. It attracts one to the sports site as a whole, but also appeals to the public as a symbol for the cooperation between three municipalities.
The project tells a powerful story with a natural radiance that spikes interest and invites one to discover. The building is positioned explicitly at the centre of the site, thus allowing an experience of inside/outside to develop. From there, it branches out to and connects with the environment and existing infrastructure.
The nature of the different functions is communicated through an intricate game of introverted and extraverted light- and sight-relations. The swimming pools, long-stretched, are situated at the north-west of the building. Here, we look outward but don't explicitly attract.
The southern façade of the teaching and recreational pool is deliberately located away from the flows of circulation. The semi-public nature of the outside spaces ensures the necessary discretion. Near the entrance and the cafeteria, by contrast, the relation to the surroundings is more exuberant.
The strategic position of the entrance-cafeteria contributes to the comprehensibility of the building, that develops from the different flows of circulation on the site.
The powerful volume, accentuated by the canopy, is an eye-catcher and, through its height, gives the new swimming pool a clear address.
The pools are conceived in such a way that they represent an additional asset in the diverse offering of sports and local recreation.
The wooden façade reflects the green character of the site. Inside, accents of warm wood are combined with a fresh touch of blue. The materials support the experience and the comprehensibility of the project.